We are now into the new summer season. We heard today that NIWA, our government weather agency, is predicting a warm dry summer, so fingers crossed for some great summer holidays here in Golden Bay!
Access over the Takaka Hill
The weather has dominated o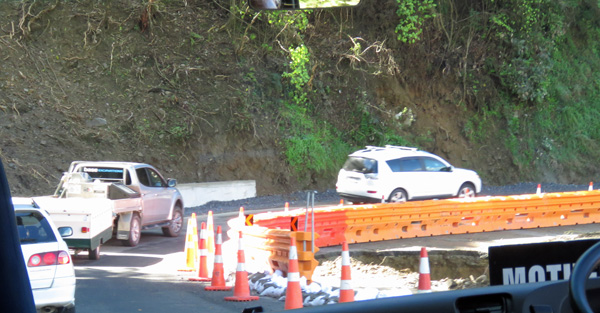 ur lives over the past months. March saw cyclone Gita hit the top of the South Island and although we were largely unaffected here at Totara Avenue, the rainfall saw massive damage to the road over the Takaka Hill and it was closed for several days. This resulted in a number of cancellations and people missing their holiday with us. In fact, the access problem was nothing like as bad as the media made it out to be, and since mid April the road has been open all the time, with just one section still one-way, controlled by traffic lights. The section is at the bottom of the Hill on the Motueka side, and runs for a few kilometres.  This means that access over the Hill can be delayed by up to 10 minutes – hardly a major change in the 2-hour drive to or from Nelson. The picture to the left shows the current situation in the one-way part.
Beach, birds and seafood
An important feature of our area, and of any stay at Twin Waters Lodge, is the beach, as somewhere peaceful to walk, with magnificent land and seascapes, a safe swimming beach, the stands of native totara trees, hundreds of years old, and a varied population of sea and forest birds. Spotted shags are a feature on our beach (photo on left), together with a variety of seagulls, terns and the occasional grey or white (kotuku) heron.
Another important aspect of the beach an sea is a source of seafood. Cockles (littleneck clams) are plentiful on the beach and are harvested in the area and exported. Pipis can also be found at low tide. Collecting shellfish at low tide for a pre-dinner appetizer is a popular activity for some guests. Fishing  from the beach varies, with a variety of species being caught by surfcasting (including kahawai, snapper and the occasional kingfish). Offshore  about 2 kilometres is a significant mussel farm that is maintained and harvested by commercial boats from Tarakohe, on the other side of Golden Bay (below).